Age of Discovery Slots
Bonus Features:

Yes

Winning Lines:

25

Wild Symbol:

Yes

Scatter:

Yes

Progressive:

No

Software:

Microgaming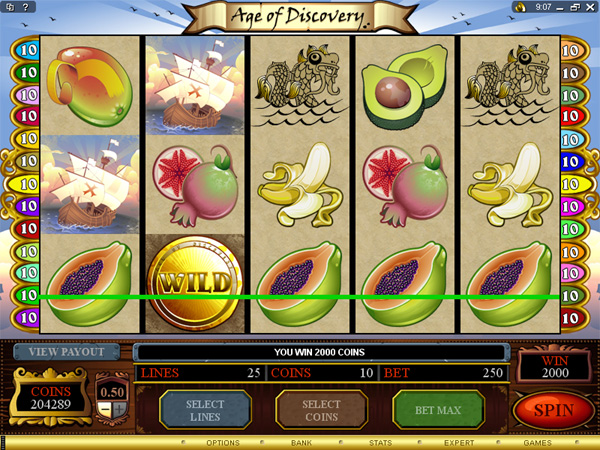 Age of Discovery Slots is a 5 reel slot machine with a ton of features. They offer a classic bonus game, that is unbelievable. Along with that there are many other features such as a wild symbol and a scatter symbol. If you are into action and you like a pirate/treasure type setting, you will not be disappointed in this slot machine. It delivers everything you would look for in a 5 reel slot machine and with 25 paylines, you are sure to have an endless amount of excitement and fun–I know that I did.
Age of Discovery Slots Wild Symbol
Of course, the wild symbol has once again done its job. You can win up to 60,000 coins with the wild symbol and you can also win a lot easier. The reason is because this wild symbol substitutes for all other symbols (with the exception of the scatter symbol and the bonus symbol). The wild symbol is some sort of gold coin, which cannot be missed. You will quickly find that this is one of the best symbols to have appear on your reels on this slot machine.
Age of Discovery Slots Scatter Symbol
The scatter symbol is even more unique than the wild symbol. It is a dragon type picture, floating in the water. Once again, it is pretty hard to miss. You will know when it comes up, as it is very unique. The scatter ins are multiplied by the total bet that is staked, and then the scatter wins ae added to the payline wins. As you can see, this can quickly become a valuable symbol.
Age of Discovery Slots Bonus
Being completely honest–this is the best bonus game that I have come across. I was absolutely amazed when I triggered the Treasure Bonus game. In order to get the bonus, you have to get the bonus symbol to appear 3 or more times. You can win as much as 32,250 coins, and the wins are multiplied by the total amount bet.
In the bonus game, you are to choose from 30 X's that are placed on a map. Under each X there will be a prize, or there will be a skull and cross bones. Only 2 or 3 of the X's are a skull and cross bones. If you do manage to pick a skull, the game will end. Until then, you will continue to rack up bonus coins and more than likely you will be very happy after you are done with the bonus.
Overall, I found that this slot machine was a top 5 reel slot machine. As far as playability and navigation goes; that was top of the line as well. It was a fairly complex slot machine with a lot of features, but it was still very easy to navigate and figure out. The pay table was nicely set u and the graphics could not have been much better. All in all, I was very impressed and would highly recommend Age of Discovery Slots.