Aristocrat Slots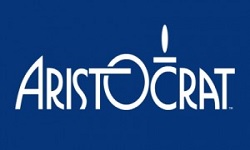 It's not often you hear about a top game maker finding worldwide success out of Australia, but Aristocrat is not your typical game creator. Among slot game aficionados, Aristocrat Gaming is a household name, most popular for what is probably their biggest hit so far, an Egyptian themed slot machine called Queen of the Nile, as well as others that have had sustained success in casinos worldwide, such as Cash Express the wildly popular Buffalo slot game series.
Most of Aristocrat's success has come from the production of physical slot machines, and spread into the arena of online slot games, many of which are playable for free, on your computer and occasionally on other mobile devices.
Here you can read a brief history of the company, how they built themselves into one of the top gambling brands on the planet, and how they are continuing to innovate the video slots industry.
Aristocrat – A Brief History
Founded in 1953, when Len Ainsworth built his first slot machine, Aristocrat Leisure set out on the road to one day becoming a giant of its industry. In 1956, the company revolutionized the gaming world with it's release of a 3-reel game called the "Clubmaster".
As the company grew in popularity, these machines spread into use and acclaim in Europe and then into the United States, where Las Vegas was the epicenter of slot games as we know them today. As the gaming industry grew, so did the Aristocrat brand, and the invention of virtual reels made slot games all that much more exciting with a new horizon of reel outcomes and ways to win for players.
In the 1990s, Aristocrat punctuated their 40 year rise with their transition into a publicly listed and traded company, expanding into their offices in the United States, Russia and South Africa, in addition to their company headquarters just outside of Sydney, Australia.
With the growth of social casino activity within mobile apps and social spheres, Aristocrat Leisure remained a part of the cutting edge by acquiring app and online gaming company Product Madness. With their new acquisition, Aristocrat made major steps as a participant in the mobile slots arena, most successfully with their mobile casino game, Heart of Vegas.
In the years that followed, the Aristocrat Leisure gaming company raked in the awards and increased their presence in North America with the acquisition of Video Gaming Technologies, further expanding their empire as a leader of video slots and casino machines.
Aristocrat's Worldwide Success
The interesting thing about the sustained success that the Aristocrat company has gained across the globe is that while their games are popular, they don't rely on gimmicks to pull in players to their slots. Both in the casinos and online, their games are mostly simple, 5-reel slots with catchy themes, aesthetically pleasing interfaces and above average win likelihoods.
Many Aristocrat games have a sort of retro appeal, since most of their free online slots are longtime favorites of players everywhere. Favorites like Queen of the Nile and Buffalo Gold haven't changed much over the years, but there's just something about them that keeps pokie game lovers coming back time after time.

Part of Aristocrat's popularity comes from their ability to stay current with the latest officially licensed game themes. From Sons of Anarchy, The Walking Dead, Game of Thrones and The Big Bang Theory, the game producer has not hesitated to show that not only can it design games that withstand the test of time like the old classics, they can stay current and on the cutting edge of popular culture.
Aristocrat also offers games which are a bit dated now, but still popular amongst niche crowds: Britney Spears, Tim McGraw, Zorro and Batman Classic TV are just a few of this wide category.
Free Aristocrat Online Slots
What immediately stands out when playing the many popular slot games in Aristocrat's portfolio, is the ease of use and the variable stakes. The games are pleasing to the eye, addictive and easy to learn so you don't have to be intimidated by stepping into a new game and learning the ins and outs.
This is part of what has made Aristocrat games so popular among casual slot players. For a free online slot game without real money at stake to be popular, it has to be seriously entertaining, and Aristocrat's games, or at least their most popular, are just that.
Many of Aristocrat's games come with themes that make the games more fun to play. These include a wide variety of Asian themed games, including the popular games 50 Dragons and Double Happiness, as well as wildlife games such as Buffalo and Jaguar Mist and a whole range of other games with themes that range from Egyptian (Queen of the Nile) to the supernatural (Werewolf Wild).
Some of Aristocrat's Popular Free Games
While it would be a fool's errand to try to review all of Aristocrat Leisure's hundreds of successful slot games, allow us to present a handful of their most popular free online offerings. These games are available with no download necessary, and are compatible with most browsers so they should be easily accessible for any online pokie seeker.
Buffalo – This Western themed favorite can be found in video arcades and casinos worldwide due to its sustained popularity among players. Buffalo consists of 5 reels with 4 spots on each reel, increasing the players chances to win from a standard 5 by 3 game.
Players win left to right, with scatters (gold coins) and wilds (sunset images) providing additional opportunities to hit the jackpot as the game moves on. The images used are animals (buffalo provide more bonus opportunities) and playing card faces from 9 to Ace. 3, 4 and 5 of a kind in consecutive reels pays out.
Queen of the Nile – Queen of the Nile has been one of Aristocrat's classics since its release in 1997, and one play shows you why. The Egyptian charm of the game, mixed with scattered pyramids that yield more free games has captured audience's hearts across the globe for 2 decades.
The one downside of the game, however, is that since it hasn't been updated much since it was originally released, it can seem dated when compared to the newer video slots.
Big Ben – Another standard 5 x 3, Big Ben comes with a few perks. This British themed slot game offers numerous ways to win and allows you to activate a "Gamble" feature every time you win to try and increase your payout.
The scatters are the game's namesake, and the wild symbol are the English palace guards. How often does the game pay out? After only 5 spins, I found myself on the winning side 3 out of 5 times.
The Walking Dead – Next we'll talk about one of the better known licensed video slots, and what better to start with than the game that won "Casino Product of the Year" in 2014. While The Walking Dead, based on AMC's hit series of the same name has gained popularity, both in the public arena and also critically, sadly, it isn't available for free on line anywhere, and players must visit the game in physical casinos if they want the full experience.
Overview of Aristocrat Free Online Slot Games
With a mix of sleek new games, licensed content, and old classics, Aristocrat offers something for every player, and a wide variety of free games available online. It's no accident why Aristocrat has garnered huge success for over 60 years with their innovative slot machine productions; their games are really that good!
Aristocrat Leisure Limited began as a slot machine specialist, and has remained at the cutting edge of the casino gaming industry throughout their entire existence.