Wheel of Fortune on Tour
Reels:

5

Bonus Features:

Yes

Coin Values $/£/€:

$1.00 - $20.00

Max Coins:

50

Max Per Spin $/£/€:

$1000.

Winning Lines:

30 + Feature

Wild Symbol:

Yes

Scatter:

No

Progressive:

Yes

Software:

IGT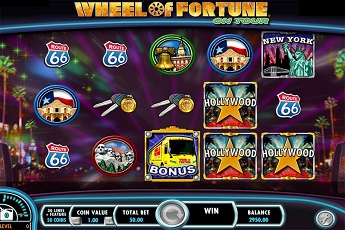 Progressive Bonus Games Path and a Unique Design
Wheel of Fortune on tour looks totally different from the many other slots in this range. You can play this game online – and will enjoy a lot of different bonus symbols. The design features a giant yellow bus, which will go on a journey looping around the USA. As you play, you will unlock new bonus games. Instead of traditional symbols on the reels, the 'On Tour' theme is brought to the fore. There are route 66 signs, and symbols showing iconic American cities.
There are some key features which tie this game in with the range of casino slots. The infamous wheels appear at various points – along with the crowd cheers and 'Wheel-of-Fortune!' shout. There is also a progressive jackpot to be won.
Before You Make a Trip to Play Wheel of Fortune on Tour: Basics
To spin the reels of this 5×3 slot, you'll pay 50 coins. That is 30 coins for the 30 win-lines that cross the 5 reels – plus 20 extra coins to enable the features. You can add a multiplier to your spin bet – with some online casinos allowing very high stakes
There are wild symbols in play. These look like the spinning wheels from the other similar slots. These do not trigger a separate wheel bonus (you do that with the yellow buses). Instead they substitute for the regular symbols. Big wins are possible with a few strategically placed wilds, which can connect a lot of different win-lines.
Landmarks and Car Keys: Winning Symbols
No other Wheel of Fortune slot uses such a diverse set of symbols – with traditional (7's / bars) or fruits being the normal choices. Here you will find the presidents of Mt. Rushmore, the New York and Seattle skylines and the Liberty Bell on the reels.
Filler symbols have a travel theme too. I like the inclusion of the 'Route 66' sign, along with car keys and a folded map.
Yellow Bus Brings Random Wilds
After some spins at random, a big yellow bus will drive onto the reels, screeching to a stop before driving off again (only to appear in the opposite direction). This is a bonus feature where up to 4 different types of symbols can be turned into wilds.
If you get lucky, with the right symbols picked, you can end up with 7 to 10 wilds – enough to give you a huge win.
On Tour Bonus Features
To get to the progressive bonus games, you need 3+ of the yellow bus bonus symbols to appear anywhere on the reels. You then see a map, which shows a looping dotted line over an outline of the USA.
As you play, you'll move through the map, unlocking different bonus symbols as you travel.
First stop is a regular wheel bonus. Here you see an electronic version of the regular spinning wheel, which you click to spin. Remember that the amount of credits shown when it stops gets multiplied by your bet multiplier.
The next stop is a free spins bonus game. As an extra advantage, you get more than 100 extra wild symbols added to the reels for this – greatly increasing your chances of a big win.
From there you get even more lucrative wheel spins – which now give you a shot at winning that huge progressive jackpot.
Travel Focused Slot Design
For me it feels like this is a travel slot, which IGT later decided to turn into part of their Wheel of Fortune range. That is not to take anything away from the effort – this is an enjoyable and well produced game. The theme includes a lot of landmarks which will be familiar to you whether you live in America or not.
Having a large yellow bus drive onto the reels is surprising the first time! Fortunately, the extra wilds this delivers will make it worth the wait. When you get to the map game, the graphics are cartoon-like, rather than detailed.
The only real reference to the original Wheel of Fortune slots is including the bonus wheel + sound effects in some of the features.
Should You Travel Route 66 to Enjoy this Wheel of Fortune Slot?
I'll stick my neck out here and suggest this is an enjoyable slot – with the Wheel of Fortune added as an afterthought. There is plenty of enjoyable game-play. Extra wilds on the reels are always welcome, and the progressive nature of the bonuses will help to keep you engaged. For an enjoyable game, this ticks all the right boxes. If you want a traditional Wheel of Fortune experience, then you might want to look at other games in this range!