The Twilight Zone
Bonus Features:

Yes

Wild Symbol:

Yes

Scatter:

Yes

Progressive:

No

Software:

IGT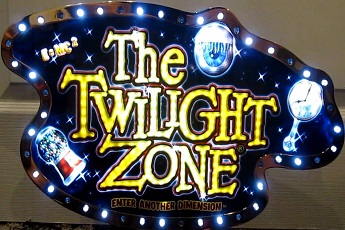 A Complex and Feature Packed Slot Based on the 1960's TV Show
Fans of the original Twilight Zone TV show will be pleased to know that a remake is in progress. The original show ran from 1959 until 1964. It combined mystery, science fiction and thriller in varied storylines. Many people consider the Twilight Zone a precursor to the many sci-fi style thriller TV shows created since.
IGT have created an expansive slot based on the show. This is packed with bonus features and has a unique reel setup. Above the slot, you will find 3 physical wheels. These are part of the main bonus feature. They can offer big cash prizes, as well as entry into further bonus games.
Reels with Their Own Twilight Zone
If you enjoy slots, either live or online, you have probably come across a lot of unusual reel setups. None I have seen are as unusual as this one.
You'll notice an 'X' in the middle of the reels, showing a starry sky. This is the on-reel Twilight Zone, and symbols float around in it. Some of these are wilds, and others will trigger on-reel bonus features.
From left to right, the reels (not including the Twilight Zone slot part) have 4, 2, 2, 2 and 4 rows of symbols. The first and fifth reels are misaligned, giving a crazy appearance to the game. Before you spin, you get to decide whether to enter the 1st, 2nd or 3rd dimension. These affect your volatility. The first dimension has 1x wilds, and more regular wins. The 3rd has 3x wilds, making your wins bigger, though less frequent.
Mysterious Winning Symbols
To say the winning symbols are an odd collection is an understatement. There is a two-headed guy, with green faces on both heads. You'll find a trumpet, someone removing a blue mask and a flying mannequin. An elevator sign, complete with a dial, also features.
Inside the X of the Twilight Zone in the middle of the reels, you'll notice logos floating in and out of view, along with some new symbols.
Those logos act as wilds (with the multiplier depending on which 'dimension' you chose). They can create wins along with the regular symbols. The other icons trigger different on reel bonus features.
On-Reel Bonus Features
If you get a mannequin with big hair floating behind her in the special zone, this will come to life. It flies over the reels, with a spectacular animation. Blue bubbles can be seen over the reels, and these will clear, leaving completely wild reels in their place.
A spinning top with a spiral design can also appear. This spins wilds over the reels, and good covering (with the potential for big wins) is possible. The last special symbol shows a portal – again this will create wilds on the reels.
Wheel Bonus Game and Twilight Zone Bonus
You need three special bonus symbols on reels 1, 3 and 5 to enter the 'wheel zone'. Before the physical wheels start spinning, you get to pick one of 3 cogs. This shows which wheel you will start on. You then press a button to spin.
The wheels have a lot of credit wins on them, and bonus game segments. You can also move between the reels. Reel 1, the biggest of the three, has the best prizes.
One bonus you can trigger via the wheel is called 'Into the Zone'. After pulling a level on the screen, a second screen just below the reels comes to life. You get 5 spins, where old-style TVs appear on the reels. When they stop, the TVs all turn into one symbol. You'll be paid based on the total number in view. With some good coverage, these prizes can be big!
Spectacular Twilight Zone Slot Design
You won't be able to miss this slot on the casino floor. It is huge, and the 3 wheels and crystal decorations on top help it to stand out. The whole game has an air of mystery, with the odd symbols helping with this. Symbols mysteriously float in and out of view in the special section in the middle of the reels.
Sound effects are straight from a 1960's sci-fi movie, and really help bring this quirky theme to life.
Should You Enter the Twilight Zone?
This is a great example of what IGT does best. They have taken a TV show and created a spectacular and engaging game based on it. Things start off strange, with odd shaped reels and that cross in the middle of them. They get even weirder when the on-reel bonuses start, with big wins coming seemingly from nowhere. The highlight is the wheel bonus, with big credit prizes and further bonus games available from there.