The Keystone Kops
Reels:

5

Bonus Features:

Yes

Coin Values $/£/€:

0.30-5.00

Wild Symbol:

Yes

Scatter:

Yes

Progressive:

No

Software:

IGT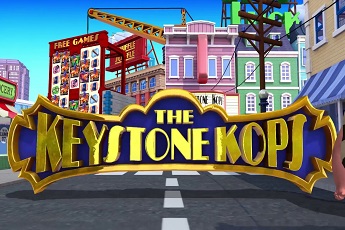 Crazy Capers in Three Themed Keystone Kops Slots
Incompetent policemen have been the theme of many movies through the years. This genre got started way back in 1907, with the Keystone Cops. These were silent movies, which spoofed dogs and criminals getting away from bungling police officers. IGT has produced 3 similar slots based on these silent movies. The name uses the alternative spelling – Kops instead of Cops.
On the reels you'll find plenty of animations, with officers standing besides the reels. Each game has a different on-reel bonus feature to enjoy. All 3 slots feature expanding reels for the free spins. At this point the bonuses can result in huge pay outs over the expanded lines. The three games are subtitled: Shuffle Scuffle, Pie Patrol and Pilfering Pooch. All 3 are covered on this page.
Keystone Kops Slots Setup
Two of the games use a regular reel setup. There are 5 reels, each with 4 rows of symbols. Shuffle Scuffle uses a different format. Here the middle reel is only 3 symbols high, with the others at 4. You can spin these reels for 30c, and multiples of that amount.
Most of the symbols are shared between the games. The cops have the biggest prizes. These look like cartoon avatars. One holds a truncheon, about to strike, while another stands there looking confused.
Smaller wins come from police equipment. There is a classic tall helmet, pair of handcuffs and a whistle.
Wilds play an important role in each of the on-reel bonus features. These are colourful symbols, which simply say 'wild'. They will connect winning symbols – often across multiple win-lines.
Bonus Features in Keystone Kops: Pilfering Pooch
This is the most visually entertaining of the bonus games. When you get a symbol showing a bone, a chase sequence kicks off. You see a dog running across the screen in front of the reels, followed by a cop. The bone lifts up (or across) revealing a cop looking around. That symbol then becomes wild. He will continue pursuing the dog a random number of times. As the bone moves around, it will leave a trail of wilds – which are then assessed when he gives up.
Bonus Features in Keystone Kops: Pie Patrol
A classic mask-wearing criminal appears on the reels in this feature. It kicks off when you get a pie symbol on the middle reel. This bad guy will throw a pie at the policeman at the side of the reels. He will also throw pies onto the reels, creating extra wild symbols. With enough pies, you can get some good coverage of wilds on the reels.
Bonus Features in Keystone Kops: Shuffle Scuffle
Here you need a stacked policeman symbol on the shorter middle reel to get the base-game feature. The cop by the side of the reels then blows his whistle. The symbols come loose from the reels and rearrange themselves. More wilds appear, and this shuffle + added wilds can repeat a few times. When the cop tries to blow his whistle and fails, that is the end of your bonus game.
Shared Free Spins Feature with Extra Win-Lines
Bonus free spins are triggered by hitting 3 of the big star-shaped badges on the middle reels. You will get 10 free spins. The big change here (which occurs in all 3 slots) is that the reels grow twice as big.
Instead of each reel having 4 rows, they now have 8 – with many more win-lines. If you trigger the on-reel bonuses, these can take place over both sets. For example, pies can land anywhere, or all 8 rows will shuffle. This makes those spins potentially very profitable.
Safe Cracking Progressive Jackpot Bonus
At random, you'll see a sequence where the reels disappear, replaced by a city view. You then go to a vault, where there are 9 golden safes. You tap on these to open them, and when you match 3, that is the jackpot you win. These are not the huge life-changing jackpots that you find on some slots – though are still welcome additions to your bankroll.
No Black and White in the Design
Instead of the original black and white of the silent movies, this slot is in full colour. The symbols are cartoon-like and the animations bring it to life. While you play you will hear a hectic piano track. This sounds like it would have kicked in during a chase sequence in the original silent movie. I like the cop standing to the left, who will react to your play.
Should You Play the Keystone Kops Slots?
All 3 games are fast, fun and packed with wholesome humour. The way each has its own bonus game makes trying out all 3 a must. All these bonuses can result in extra wilds, and a shot at a multi-line win. Free spins see expanded reels, the perfect accompaniment for that crazy piano sound track.