The Dark Knight
Bonus Features:

Yes

Coin Values $/£/€:

0.01-5.00

Max Coins:

1

Max Per Spin $/£/€:

$15.00

Winning Lines:

243

Wild Symbol:

Yes

Scatter:

Yes

Progressive:

Yes

Software:

IGT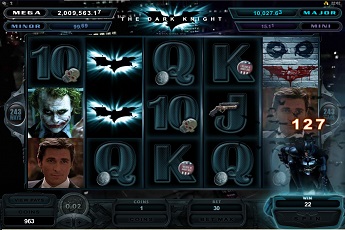 Community Bonuses and Special Effects Based on the 2008 Dark Knight Movie
The Dark Knight was one of the blockbuster movies of 2008. It reimagined Batman and Gotham City – adding a dark, brooding atmosphere than was a long way from the comic book vision. This movie had an all-star cast. The late Heath Ledger was a brilliant Joker, while Michael Caine and Morgan Freedman also starred.
IGT have created a spectacular live casino slot based on the Dark Knight. What stands out is the big screen, which covers several individual slots. A major bonus, the 'Race for Gotham City' can be joined by multiple players. There are plenty of individual bonus games too. Best of all, you can win a life-changing progressive jackpot!
Choose from Batman or the Joker Before You Spin
Even before you play a single spin on the Dark Knight slot machines, you'll have a choice to make. You can choose either Batman or the Joker mode. You are not stuck with this choice and can switch at any time. The symbols are different for each – though the game-play is the same. I have covered the Batman mode for this review.
The Dark Knight features 50 win-lines. You can spin for just 50c per spin – or add a multiplier of up to 5x.
Base Game Winning Combinations
On the reels you'll find the key characters from the movie. Your best prize will come from lining up the Batman (or Joker in that mode) symbols. Bruce Wayne also gets his own symbol – as do the other key characters. Symbols appear in small stacks on the reels. This means that your wins will often come in groups over several win-lines.
Lower paying symbols include the bat mobile, and various tech used in the film. An important symbol shows a spiked bomb. This says 'progressive' on it and will unlock the big progressive prize.
On-Reel Features
Aside from the spectacular bonus games, you will sometimes get extra wild symbols in the base game. A pop-up appears, along with some words about making your own luck. One symbol is then selected at random to represent an additional wild for the next spin. You are not guaranteed a big win from this – though your chances of getting one are certainly improved.
You will also find Batman or the Joker making an appearance over the reels. They have the ability to turn one or more reels completely wild.
Regular Bonuses
To trigger one of the single player bonuses, you need 3 bonus symbols anywhere on the reels. You are awarded a bonus at random after watching a spectacular animation of the bat-mobile driving onto the screen and then towards you.
One bonus is the Joker's 'Slight of Hand'. You see a lot of playing cards, face down. You swipe the screen, which flips one or more of them over. This will reveal a cash prize. You keep on swiping until you get a toxic one. You can also win the golden bat insignia symbols here – which work towards the community bonus.
Sonar Vision is a picks game, which takes place inside the bat cave. You'll see a wall of monitors, curved around a control console, from which Batman rises. You then see a smaller grid of 6 lit screens, where you pick for prizes and multipliers.
Community Bonus: The Race for Gotham City
Whenever you hit a gold Batman insignia, you'll get to make a choice. You can either initiate the community bonus on the main screen which straddles the individual slots – or keep them for later. The advantage of keeping them is that your win multiplier for the race game increases. You can initiate this bonus at any time by hitting the icon on the top left of the reels. All players who have tokens will then get an offer to join.
This bonus is visually amazing. It shows a race between a car and a truck though a track with Gotham City in the background. There are glowing gold circles along the way, which award cash prizes. Whichever vehicle gets to landmarks (bridge, roadblock) first, wins a smaller progressive jackpot. This race is between the Joker and Batman – so depending on which mode you play in, you might be rooting for a different car!
Specular Multi-Media Production
The Dark Knight casino slot game shows IGT at their best. The movie clips, animations and special effects are all top quality. When you add to that the voice of Michael Caine, giving you instructions for the bonuses and explaining what to do next, things go up a level. The shared screen with the car chase works really well, this is especially good if you are involved in this community bonus.
Will the Dark Knight Slot Save Your Bankroll?
I'd rate this as a must-play, especially for fans of the movies. There is a lot of depth to the game-play, with on-reel features as well as multiple second-screen bonus games. Things get spectacular fast with the community bonus. Add to this the chance of a progressive jackpot, and you'll soon realise that the Dark Knight slot is no Joker!