Miss Red
Reels:

5

Bonus Features:

Yes

Coin Values $/£/€:

$1.00 - $20.00

Max Coins:

45

Max Per Spin $/£/€:

$900.

Winning Lines:

1024 Ways

Wild Symbol:

Yes

Scatter:

No

Progressive:

No

Software:

IGT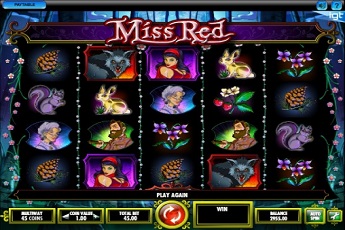 Little Red Riding Hood as You Have Never Seen Her Before!
The story of Little Red Riding Hood is familiar to generations. In Miss Red from IGT, you get a brand-new take on this old story. Little Red features, as does the wolf. If you trigger the bonus game, you will find a reference to the surreal moment when the wolf impersonates grandma. As you would expect from IGT the production and graphics are top quality.
What makes this slot stand out is a unique expanding symbols system. Matching symbols join up horizontally across the reels – and pay from any position. In the free spins bonus game, the wolf and Red Riding Hood combine into single wilds, giving you many more winning possibilities.
Base Game Setup and End-to-End Symbols System
Miss Red uses an all-ways wins system. This plays out over a 5×4 grid, giving you 1024 ways to win on every spin. You'll pay 45 coins for each spin.
In the base game there are two symbols which can expand using a new end-to-end system. If you get either matching Miss Red symbols, or wolf symbols on the same row, the spaces between them get filled with those symbols. For example, if you hit Miss Red on reels 1 and 5, you will see an animation where they join (showing our heroine running through the woods), You now have a line of 5 symbols. These will combine with any matching symbols on the other reels to create winning combinations in the all-ways system.
It is possible to have more than one reel of joining symbols. If you join symbols starting on reels 2 or 3, you can get 3 or 4 of a kind wins. These do not need to start on the left hand reel this time.
Base Game Wins Rely on Multi-Line Hits
Balancing the extra ways to win, the individual prizes are smaller. Keep in mind that the maximum wins will come from covering the reels – producing 1024x the 5 of a kind prizes.
Miss Red herself has the biggest prize. If you line up 5, you'll get 50 coins, with 15 coins for each 4 of a kind, and 8 coins for 3. The wolf, which also expands, is not too far behind. This symbol is worth 40 coins for 5.
There are bigger prizes for the non-expanding symbols. Granny gets you 125 coins max, and the woodcutter is worth 125. Smaller wins come via forest themed symbols. There is a rabbit, squirrel, mushrooms and flowers.
Granny's Free Spins Bonus
This slot only has a single bonus (together with the expanding symbols system). Here you will see the appearance of the wolf dressed as Granny – in a picks game which comes in before your free spins start. You see 'granny' in bed, and 5 floral displays around the screen. You simply pick one, which gives you a number of free spins. You'll see the number behind the bunches of flowers you did not pick before you return to the reels.
There is a subtle, though lucrative switch in the game-play for your free spins. When you get wolves or Miss Red on the reels, they combine into a single symbol. The horizontal expansion is still in place. This gives you a lot more chances to connect symbols, as any pair of these two symbols on the same reel will join together.
You can retrigger for more spins, with 3 more of the special bonus symbols on the middle reels.
Woodland Design and Wolf Chase Animations
Above the reels you will see an eerie forest. This picture is completed with flowers growing up the sides of the reels, plus the detailed woodland filler symbols on the reels. Miss Red is a cool character, more glamourous than I remember from the fairy tale.
When the symbols expand you will see an animation with a woodland scene. This will show either Miss Red skipping along, or the wolf bounding through the trees. When they combine in the free spins bonus, there is a chase scene instead.
While you play an atmospheric tune plays. This has a driving bass feel, with keyboards and strings over the top.
Will Miss Red Give You a Big Bad Win?
It is not often a slot with truly unique game-play comes along. While expanding symbols have been used before – the horizontal expansion is new. Combined with the all-ways wins system, this will give you a lot of winning chances. Things get even better during the free spins, when the wolf and Miss Red expand into each other.