Lord of the Rings
Reels:

5

Bonus Features:

Yes

Coin Values $/£/€:

0.50-4.00

Wild Symbol:

Yes

Scatter:

Yes

Progressive:

No

Software:

IGT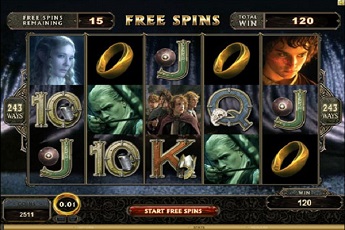 12 Bonus Games Plus On-Reel Features in this Fantasy Spectacular
IGT have been making slots based on JRR Tolkien's Lord of the Rings for many years. The original slots had 3 reels. Some featured bonus games, though none were as epic as the more recent 'Two Towers' 5-reel slot. This one includes clips from the movies, plus an epic 12 bonus games, which you can choose from via a map of Middle Earth. The music and visuals are in keeping with the films, making the Lord of the Rings slot an immersive experience.
As well as 12 separate bonus games, there are some interesting on-reel features. As you spin you will collect 'power spins'. You can choose whether to play them right away – or continue for bigger multipliers later. Those bonus games require 3 rings of power and have a depth that other slots do not match.
Before You Begin Your Quest: Reel Setup
You'll see backgrounds to the reels which change depending on your last bonus game. Over a backdrop of Middle Earth are 5 reels, each with 3 rows of symbols. You can spin for 50c up to a maximum of $4.
Symbols show familiar faces from the movies – along with weapons and familiar landmarks. Frodo and Sam appear in two different symbols. These are the highest paying symbols, along with one featuring the other members of the party. When the rings of power hit the reels, they briefly turn into the eye of Sauron. It is small touches just like this which really help to bring this slot to life.
Logo symbols also appear on the reels. These are wilds, which will connect wins with the regular symbols.
On-Reel Features and Power Spins
You can get additional wilds on the reels through 2 random features. The first sees leaves falling onto the reels. This is set in the forest of the wood Elves. Those leaves leave extra wilds, which start off as glowing squares.
A more spectacular version of this involves an animation of a dragon. This appears over the reels and flaps its wings. The more flaps you see, the more wilds appear. These extra wilds will add to any you already have – giving you the potential for huge wins.
Power Spins are progressive. You will see an animation, where symbols are added to one of 5 circles under the reels. You can take these at any time. If you collect more symbols, you can get a multiplier of up to 10x. Each spin involves a different symbol as a scatter. You can get wild multipliers, scatter pays and even completely wild reels. This acts as a great saver for when you run out of money!
12 Different Lord of the Rings Themed Bonus Games
To trigger the main bonuses, you need 3 or more rings of power anywhere on the reels. You then see an animation. The view zooms in on a map of Middle Earth which is on a desk. Unusually, you get to choose which of the bonus games to play. Some are picks games, and others free spins bonuses.
Each one comes with an animated sequence from the movies before you play. You can skip these if you wish.
Here are some examples of the bonuses:
Gandalf's Fireworks: This is a free spins bonus where you get 7 spins. On reels 2, 3 and 4 there are special firework symbols. When these appear, the fuse will be lit, and the firework will explode in the top part of the cabinet. This reveals a multiplier for any wins on that spin.
The Prancing Pony Bonus: This is a picks game based in the tavern where the party escape from the wraiths. You need to choose 5 parts of the tavern wall. You will then see an animation where wraiths swarm over the reels. Prizes based on your picks are then revealed.
Helm's Deep Bonus: Another free spins game. This one continues until 3 orcs have scaled the walls of Helm's deep. These orcs appear to climb ladders after each spin. Archers can appear over the wall and shoot them. You will get increasing wild multipliers on reels 1, 3 and 5. These go up to 5x for all 3 on your final spin.
Is the Lord of the Rings Game One Slot to Rule Them All?
The depth of the game-play of this slot is amazing. With 12 bonus games to get through, you can play for a long time before repeating them. The power spins add a unique progressive element. You can play them right away – or wait until you hit a 10x multiplier and go for the big wins. Add to this epic music and scenes from the films, and you have a slot worth making a quest to play!