Kitty Glitter
Bonus Features:

Yes

Coin Values $/£/€:

$1.00 - $25.00

Max Per Spin $/£/€:

$750.

Winning Lines:

30

Wild Symbol:

Yes

Scatter:

No

Progressive:

Yes

Software:

IGT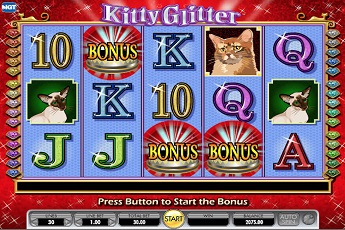 The Original Feline Slot Still Has Plenty of Appeal
Kitty Glitter was the first big hit slot with cats as the key symbols. This is an older game, though still holds its own in terms of enjoyable game-play. On the reels you will find a cast of four felines. These are a fluffy white cat, ginger tom, a tabby and an unusual looking Siamese cat. You'll be hoping to see the food bowl, which is full of gems. This will trigger the main bonus game. There are no 'meow' effects for this slot, though the smooth big band sounds create an entertaining vibe.
During the free spins bonus there is a progressive element to the game-play. One at a time, you can get all the cats to convert into wild symbols. As the proportion of wilds to regular symbols goes up, you will find plenty of big win potential.
Reel Setup for Kitty Glitter
5 reels are in play for this game, with 3 rows of symbols on each. You can adjust the number of win-lines. The default is 30, and I do recommend you stick with this number. When the wilds come in during the free spins bonus, you'll want to maximise the potential for big wins. You can bet from just 1c per line and up from there. If you are enjoying Kitty Glitter online, an auto-spin option is available.
Which is the Top Cat?
Leading the prizes is a cute long-haired white cat. This fluffy beast will pay 1000 coins if you line up 5 of a kind, 300 for 4 and 50 coins for just 3. Next comes a ginger cat, which is looking puzzled. This one pays 750 coins for the maximum 5. Next comes the tabby at 400 coins, then finally the Siamese at 300.
Alongside these cats are the standard playing card symbols. Which have light effects to show a little bit of bling. Aces down to tens are in play.
Wild symbols also appear. There are no individual wins for these, as they only appear on reels 2 through 5. They will substitute for any other symbol – sometimes helping to create more than one win on the same spin.
Progressively More Wild Cats – The Free Spins Bonus Game
A bowl filled with diamonds will land with a thud. This special symbol only appears on reels 2, 3 and 4. When you get all 3, you'll get 15 free spins. Not only will you get a different brass band tune, you'll find a new element to the game-play.
Under the reels you will see all 4 cats. Next to each are 3 diamond shaped holes. As you spin a special diamond symbol will sometimes appear on reel 5. Each time it appears, an impressive animation kicks in, with the diamond moving down to fill a gap. Each time you get 3 diamonds, the respective cat becomes an extra wild. You will see the word wild on the symbols, though only on reels 2 through 5.
To get the best from this bonus, you need to retrigger one or more times. You can do this with 3 bowls, which are now green. With a good run of diamonds, you can get 3 or even 4 cats wild – which gives you plenty of big win potential.
Cats and Bling: Classic Kitty Glitter Design
While the graphics are not the newest, those cats do have bags of personality. Depending on whether you are a cat lover, you might even say they are cute. The ginger cat stands out for me. This one has an intense, if puzzled, look on it's face.
Around the reels you'll find some nice touches – for example the line markers are all gems. The reels are backed with a light blue colour.
Music completes the unusual feel to this classic slot game. Big band sounds play, with the classic 'putting on the Ritz' kicking in when you hit a big win. There are also some familiar electronic sounds from the early days of video slots when the reels spin.
Is Kitty Glitter the Purr-Fect Slot for You?
Whether you love cats or hate them, there is little doubt that IGT's Kitty Glitter has a place in the history of slot gaming. Simple graphics and standard game play feature in the base game. When the bonus games kick in, things get interesting fast. The progressive element means that you'll accumulate more wilds as your spins go on. If you are lucky, you can get 3 or more cats wild. When this happens, big wins are possible on every remaining free spin.