Cluedo Slots Game
Bonus Features:

Yes

Coin Values $/£/€:

1

Max Coins:

5

Max Per Spin $/£/€:

75

Winning Lines:

15

Wild Symbol:

Yes

Scatter:

No

Progressive:

No

Software:

Microgaming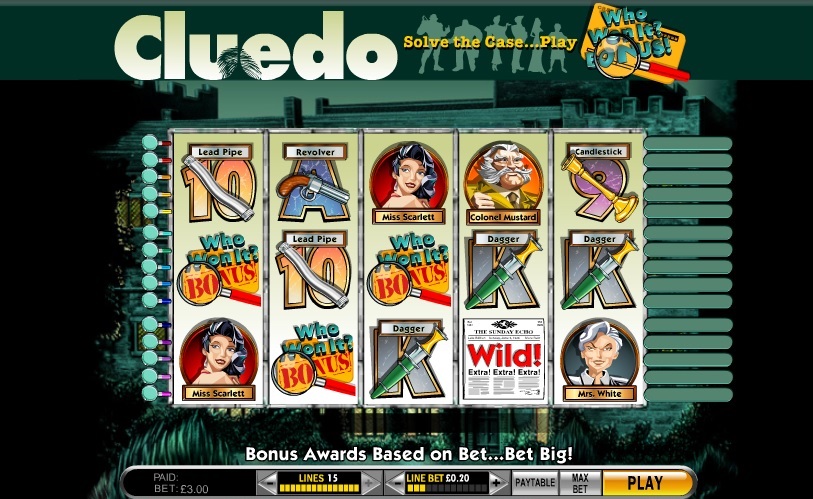 Some slot machines try to make up for a shortage in money making by making the game really fun and entertaining. Cluedo Slots is the perfect example of that kind of slot machine. The game has great graphics and follows the theme of the well known board game called "Clue." All the characters of the game are the symbols and the game makes very cool "detective" noises throughout the game play.
What makes this game a bad one is that the max bet is 75.00 and if you use it all of the time you are usually going to either get nothing or just win 50.00 back and end up losing 25.00. One good thing about this slot machine, however, is the fact that it adds up the winnings from the pay lines instead of just paying out the highest one only.
Cluedo Slots Wild Symbol
The wild symbol in this slot machine is a graphic of a newspaper with the world "wild!" on it in red letters. Five wild symbols pay out the highest amount of credits at 25,000.00. It substitutes for everything except the bonus trigger. It is not a multiplier symbol or a scatter symbol.
Cluedo Slots Bonus
The bonus in this game does come up more often than usual, but it really doesn't matter because the highest payouts on the game are such a long shot. When you get the bonus trigger, which is three of the symbols made up of the words "who won it?," the game takes you to a screen where a magnifying glass will randomly choose three different categories for you – "who did it?," "what did they do it with?," and "where did they do it at?" Different people, objects, and places have different values, and you end up getting the ones with the lowest value quite often even though it gives you three tries.
The game is fun, but it is a money loser. Sometimes, if you win the bonus a lot, which is more likely to happen in this slot than other ones, you can get ahead, but don't plan on it.