Candy Bars
Reels:

4

Bonus Features:

No

Coin Values $/£/€:

$1. - $10.

Max Coins:

75

Max Per Spin $/£/€:

$750.

Winning Lines:

50

Wild Symbol:

Yes

Scatter:

No

Progressive:

Yes

Software:

IGT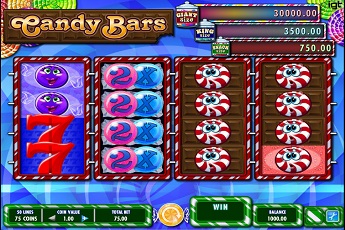 Your Favourite Candies Line Up for Big Jackpot Wins
You'll be reminded of childhood trips to the candy store with this IGT slot. The sweet treats on the reels are the kind that used to come in jars. Those same jars can be seen above the reels, in 3 sizes. These contain progressive jackpot prizes which can be won on any spin. This is a lively, upbeat slot – and the candies have eyes and distinctive characters.
Instead of the normal 5 reels, this slot uses just 4. You can hit win multipliers instead of symbols, and those jackpots simply require covering one or more reels with special 'progressive' symbols. On top of this are wilds, and some huge prizes for 'blackout wins'.
Setup of the IGT Candy Bars Slot
The reels are in a 4×4 grid. It does not look like that at first, as the grid is stretched sideways. IGT has crammed in a lot of win-lines considering this setup. There are 50, which are fixed for this game. You bet in units of 75. This covers 1 coin for each of the win lines, and the additional features on top. You might notice that the spin button looks like a boiled sweet in a wrapper!
The Sweet Taste of a Win: Regular Winning Combinations
Wins are triggered for 3 of a kind or 4 of a kind on a win-line. The best prizes will come when you get many (or even all 50) of the win-lines triggered on the same spin. This is helped by a combination of stacked symbols and wilds. Multipliers add an additional boost.
Your biggest win will come from the red 7's on a blue background. These are worth 100 coins for 4, and 15 coins for 3. The reverse 7's (blue with a red background) are worth 50 coins for 4 and 10 coins for 3. Mixed 7's also trigger a smaller prize.
There are 3 candy characters. Each has a bold background colour, making them easy to spot on the reels. There is a purple one, red and white striped one and a chewy-looking green one. They all have the same prize, which is 10 coins for 4 and 5 coins for 3.
Some of the candies have a slab of chocolate as their background. These are wild symbols. They substitute for any of the 3 candies, though not the 7's.
Win multipliers simply say 2x, if you get those involved, all lines which contain one are doubled compared to the pay table. If you get 2 of them, then you get 4x on your win. This makes the biggest line win 100 coins x 50 x 4 = 20,000 coins. As you will see, blackout wins are even bigger!
Candy Bars Blackout Wins
If you manage to cover the entire 4×4 grid with the same symbol, you'll get a big blackout prize. Note that this is only the symbols – 2x multipliers or wilds don't count. The top blackout prize is a huge 25,000 coins for a full screen of the red 7's. You'll get 12,500 for the blue 7's and 5000 for any candy type or mixed 7's.
Snack Size, King Size and Giant Size Progressive Jackpots
Above the reels on the right you will see 3 jars, each with a progressive jackpot next to it. The biggest is 5-figures! You can win these instantly on any spin.
On the reels are strips of symbols saying 'progressive'. You only need one of these covering all 4 spots on a reel to win the Snack Size Jackpot. 2 will get you the king size and 3 the Giant size.
Bright and Lively Slot Design
Happy music plays while you spin, with a funk / rock feel to it. There are also smaller sound effects for wins with the different sweets. The design is deliberately created with lots of clashing colours – to give you that candy store feeling. This game moves fast, and big wins can come from out of nowhere!
My favourite part of the design is the logo. This is a long chocolate bar. Someone has taken a cheeky bite out of one corner.
Is the Candy Bar Slot from IGT Sweet Enough for You?
Some novel game-play and a lively style make this slot enjoyable enough for a spin. It is unusual to see 4 reels, as most slots choose either 3 or 5. This works well, and stops being noticeable after a few spins. Most of your wins will come from simply lining up the candy or 7 symbols. With huge blackout wins possible, and those 3 progressive jackpots – there is certainly plenty of big win potential too.