Bubble Craze
Bonus Features:

Yes

Coin Values $/£/€:

$1. - $20.

Max Coins:

50

Max Per Spin $/£/€:

$1000.

Wild Symbol:

No

Scatter:

No

Progressive:

No

Software:

IGT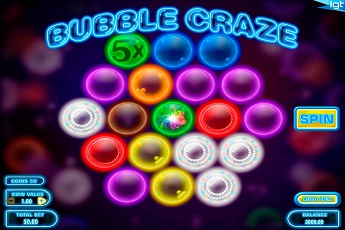 Pop Groups of Bubbles to Win Big Prizes in this Novel Slot Style Game
Bubble Craze from IGT is not a slot in the traditional sense of the word. Instead of reels, you will see a hexagonal group of brightly coloured bubbles when you click spin. These appear to float on the screen and will move up from the bottom of it to fill the spaces. There is an effective bursting animation for each new spin. Here the old bubbles pop in unison, making space for the new ones to move in.
As well as getting paid for groups of bubbles the same colour, there are some special bubbles to look out for. Transform bubbles affect those around them, and multiplier bubbles boost your wins. Best of all, there are free spins bonus bubbles. You can win 5 free spins, with plenty of extras to help you win big.
Unique Bubble Crazy Game Setup
What I like about this game is that the 'slot feeling' is 100% in place, even though you will not be playing on any reels. Instead you see 19 brightly coloured bubbles (almost gem-like brightness) float up each time you spin. These form a hexagon, and you'll be paid out based on how many groups of 4 or more appear. The pay outs for bigger groups can be big, though most of your regular wins will be for 4, 5 or 6 bubbles together.
You bet 50 coins for each spin, with 1c the smallest coin size. Auto-spin is offered.
Key to this game are the bubbles with special qualities. More on those below, first, the regular prizes.
Regular Prizes: From 4 to 19 Bubbles
If you are lucky enough to cover the entire set of reels with a single coloured bubble, big wins are on the way. The top prize comes from the silver (white) bubbles. 19 of these will get you a cool 10,000 coins. Prizes go all the way down to groups of 4, which are worth 75 coins. You need 5 to reach double figures, and a minimum of 14 to reach the 1000-coin mark.
Other coloured bubbles have smaller prizes. These are red, orange, yellow, green, blue, purple and brown.
You will sometimes get more than one group of bubbles on the same spin. The maximum possible wins per spin is set at 4.
Special Bubbles Boost Your Wins
There are two types of bubble which can give your wins a boost in the base game. These are transform bubbles and multiplier bubbles.
Transform bubbles have a spiral inside them. Their role is to affect the bubbles around them – changing them into the same colour as one they are touching. This can give big boosts, for example if you have group of 4, with one transform bubble changing 4 more into the same colour.
Multiplier bubbles contain either a 2x or a 5x multiplier. This is applied to the whole group win if they are involved in a 4+ group. The combination of a transform bubble with a multiplier bubble can add a lot of coins!
Free Spins Bubbles with Extra Transforms and Multipliers
Coloured snowflake patters inside some bubbles signify a free spins bonus. Like on most slots, you will need 3 or more to trigger the free spins. Two things happen when you hit the bonus. First, the background changes dramatically. You get a purple and pink cloud appearing to zoom past around the edges of the game. This reminded me of nebula pictures from the Hubble Space telescope.
Second, and most important – you get a lot more transform and multiplier bubbles. Each of your 5 spins should have a welcome boost.
Bright Bubbles Design
This looks more like a mobile phone social game than it does a slot. There are bubbles moving upwards against a dark, fuzzy background. This contrasts with the brightness of the main bubbles. The slight movement of those bubbles completes the underwater feel. When they burst at the start of each new spin, you get a vivid and detailed animation showing white streaks.
Cheerful music (electronic style) plays while you spin. This changes in the bonus game, becoming a dance-music style number.
Should You Pop Some Money into the Bubble Crazy Slot?
Bubble Craze is the perfect change from traditional reel-based slots. The action is fast, and the general feel stays slot-like. You'll be paid for groups of wins, rather than lines. With a little luck, you'll get a big group of bubbles with a big multiplier.  Transform bubbles will help grow your groups – bumping you up the pay table along the way.