Playboy Featuring Pitbull
Reels:

5

Bonus Features:

Yes

Coin Values $/£/€:

0.01-1.00

Max Coins:

5

Max Per Spin $/£/€:

125

Winning Lines:

25

Wild Symbol:

Yes

Scatter:

Yes

Progressive:

Yes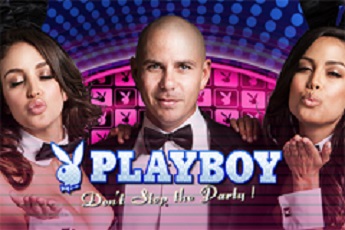 Music meets Glamour in this Feature-Filled Bally Slot
The Playboy Brand first appeared back in 1953, when Hugh Hefner and his associates launched the Playboy magazine. Known for its centerfolds, interviews and short stories by famed writers, Playboy would eventually become a global success. Today, the brand has become Playboy Enterprises Inc, with the famed 'bunny' logo associated with a wide range of ventures. The Playboy Brand has a strong link with the gambling industry too, with online casinos associated with the brand and other slots too. In this particular game, Playboy have teamed up with the rapper Pitbull, known for hits such as 'Give Me Everything' and 'Timber'.
What stands out about this Playboy themed slot are the sheer range of features. You'll find added wilds, mini reels, multipliers and both Pitbull and the Playboy bunnies working their magic on the reels.
I'm Yelling Timber – The Base Game with Mystery Stacked Reels
Playboy Featuring Pitbull, or to give it it's full name 'Playboy Don't Stop the Party with Pitbull Slot Machine' plays out on a large curved screen. Two games are usually twinned together with a single, large screen above, featuring both Pitbull and a Playboy Model.
The base game plays out on a 5×4 reel setup, with the reels looking large on the lower portion of the curved screen. Symbols on the reels include a variety of Playboy bunnies, Pitbull himself and a combination of the two. With so many bonus features, a variety of these bonus symbols will appear during most spins too. The symbols are completed by the playing card symbols Q, K and A. Each of these playing cards features an added playboy bunny – those people at Playboy never miss the opportunity of using their logo!
During every spin, Mystery Stacked Reels are in play. A number of stacked positions on each reel will be filled with one randomly chosen symbol from the game. This makes the base game very interesting, as you can easily land one of those large multi-win line pay-outs at any time.
Wide Mix of Bonus Features
The game features a good mix of randomly awarded bonus features and those which are activated by landing the right combinations.
The best of the randomly awarded features is 'Mr. World Wilds'. This will immediately see between 2 and 4 of the reels being filled with wilds. The reels will then be re-evaluated, and you'll be paid out accordingly. This feature can offer BIG wins.
If you're a fan of free games features, you'll enjoy the 'Give Me Everything' feature. This is activated by landing the Give Me Everything symbol on reels 1, 3 and 5. You'll now be awarded 10 free spins. A playboy model walks towards you and blows you a kiss on the upper screen, this kiss scattering a series of wilds across the reel, ensuring that each spin can be a huge one.
The 'Don't Stop the Party' bonus feature is a highly original one, where you'll find nine mini three-reel slots appearing on the screen. A playboy model will scatter multipliers across these mini slots and each will have their own pay table. While the nine slots are spinning, the playboy bunny dances along to Pitbull on the upper screen!
This Bally designed slot also features five different progressive jackpots, which are won by landing a series of the Pitbull Progressive symbols on the reels. You'll need to land six or more to land one of the smaller wins, but land Pitbull twelve times or more and the major progressive is yours. With hundreds of thousands of dollars on offer, Pitbull could change your life.
Party Time – Playboy Featuring Pitbull Design
A combination of Pitbull and Playboy is never going to be a quiet affair – this is one of the biggest and boldest slots on the casino. With it's slick dark background, high class visuals, the playboy models adding glamour to the game and the music of Pitbull, this is a true all-encompassing multi-media experience. You won't be walking past this slot without noticing it.
Bunnies and a Bull – Playboy Featuring Pitbull Overview
You won't have to be a fan of Pitbull or Playboy to enjoy this Bally 'production'. Yes, this is more than just a slot, the games offers-up a modern, energy-filled, immersive gaming experience. A simple look at the range of features tells you that the slot has variety written all over it and each feature has its own distinct feel. Add in the chance of landing a life changing progressive jackpot and this is a game that has it all.