Wild West
Reels:

3

Bonus Features:

No

Coin Values $/£/€:

0.01-5.00

Max Coins:

3

Max Per Spin $/£/€:

15

Winning Lines:

1

Wild Symbol:

Yes

Scatter:

No

Progressive:

No

Software:

Amaya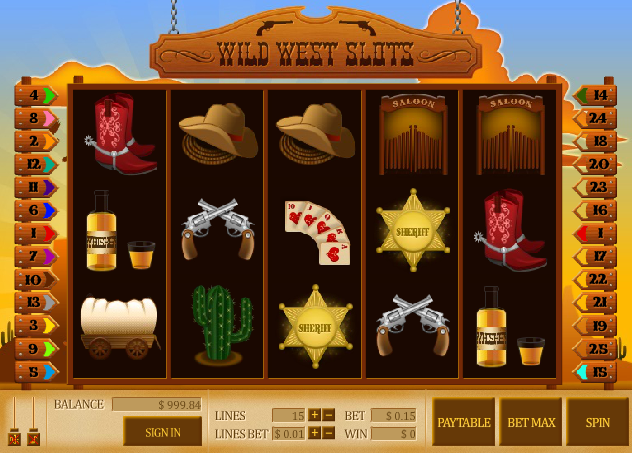 Wild West Slots is a very strait forward and user friendly slots machine. I thought it was user friendly because you really didn't have to take any time to try and get comfortable with the features on this machine before you started enjoying it. This was probably because there was only one feature added onto this machine and this feature was very simple. The first thing I noticed about this slots machine was that there were a ton of different symbols being used. This was a good and bad thing. It was good because it really helped keep things fresh for a long period of time but it was a negative in that it really drug down the winning percentages which meant less winning action which is always a bad thing. This really made the game less engaging. The betting options were solid in the sense that they got the job done. There was only one pay line which I wasn't exactly thrilled about but the betting range was sufficient as players could spin the reels for as little as a penny or for as much as fifteen dollars. This is definitely good enough to make the machine accessible to a wide range of different players and bank rolls. On machines this simple it isn't really necessary to included outrageous betting options.
Wild West Slots Wild Symbol
The wild symbol offered on this machine was without a doubt very effective in bringing excitement and big prizes to the overall game play. The symbol itself was a picture of a sheriff's badge. It appeared on every reel and could be used to substitute for any symbol in the game. It was also a prize in and of itself in that even if it was the only symbol to appear it still awarded a prize. My favorite part about this symbol with out a doubt though was the fact that it was also a prize multiplier. Whenever one of these symbols was used as part of a winning combination the prize awarded was automatically doubled and if two were used the prize was quadrupled. This really gave players great incentive to get excited about this symbol and to really root for it.
Overall, I thought this was a solid slots machine for what it was designed to be. I think that it is a pretty mindless players and it definitely isn't intended to be played for hours on end. If you're just looking for something simple and user friendly though then this may be the machine for you. I would highly recommend this machine as a nice break from the more complex machines out there.