Oktoberfest
Reels:

5

Bonus Features:

Yes

Coin Values $/£/€:

0.01-5.00

Max Coins:

45

Max Per Spin $/£/€:

225

Winning Lines:

9

Wild Symbol:

Yes

Scatter:

Yes

Progressive:

No

Software:

Amaya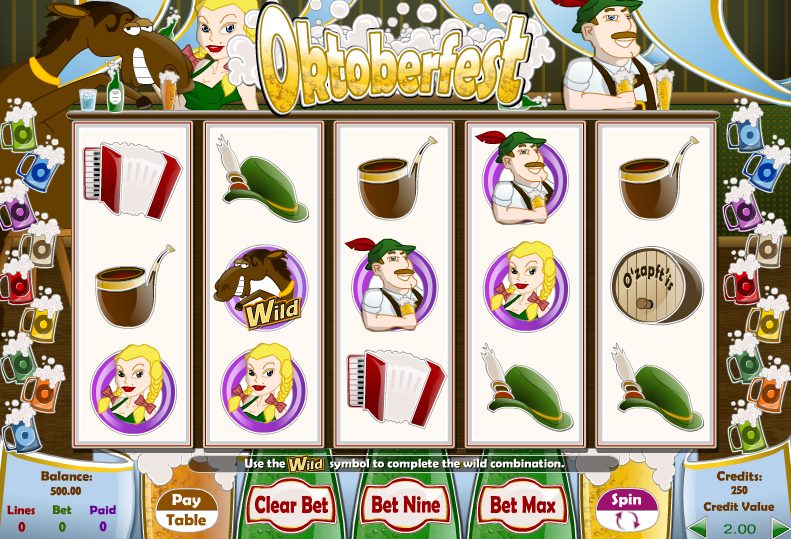 Ah, a slots machine after my own heart. Oktoberfest Slots celebrates one of the greatest of Europe's storied traditions. The designers really did a nice job of bringing the beer drinking theme to life and this really made for a very enjoyable playing experience. Nowhere was this theme more embodied than in the symbols that were used. Not only were they all very theme oriented but they were also all distinct enough from one another as to avoid any moments of confusion between the symbols. This really helped the game run as smooth as your favorite beer. The betting options were also superbly done. The betting range was huge as players could spin the reels for as little as a penny or for as much as 225 dollars. This should be more than enough to make this machine accessible to a large variety of people. There were also nine different pay lines that players could bet on which was good but it probably could have been done better. Luckily there wasn't an overabundance of symbols being used on this machine so it didn't prove to be too big of a problem.
Oktoberfest Slots Wild Symbol The wild symbol used on Oktoberfest Slots was a picture of a donkey, or an ass, that looked to be very intoxicated. I love the message being sent here. This symbol appeared on every reel and could be used to only substitute for the beer lady and the beer man symbols. This was really disappointing. This symbol seemed to occur more than most normal wild symbols but since it could only substitute for two symbols it rarely led to anything. I would strongly suggest that this symbol be made so that it could apply to a few more symbols so that it had a bigger impact on the overall gaming experience.
Oktoberfest Slots Bonus Game
The bonus game offered on Oktoberfest Slots was activated whenever three or more bonus symbols appeared on consecutive reels. There were actually three different bonus symbols but they all served to do the exact same thing. This was actually kind of frustrating because you needed to match up three of the same bonus symbols to activate the bonus game and there were seemingly always a ton of bonus symbols on the screen but never the right combination. When the bonus game was activated you were taken to a different screen where you had to click on barrels of beer to reveal prize multipliers until you hit the "finished" button. This was a pretty cool bonus game even though it was really simple. I thought it usually led to some pretty big prizes and my only complain would be the way the designers set up the various bonus symbols.
Overall, I thought this was a pretty solid slots machine. Players shouldn't really be expecting to be blown away by any of the features included on this machine but they were good enough to ensure a subsistent level of excitement. My favorite part about the machine was how well the theme was developed and I think that this is reason enough to at least given this machine as shot.