Hollywood Reels
Reels:

5

Bonus Features:

Yes

Coin Values $/£/€:

0.01-5.00

Max Coins:

45

Max Per Spin $/£/€:

225

Winning Lines:

9

Wild Symbol:

Yes

Scatter:

Yes

Progressive:

No

Software:

Amaya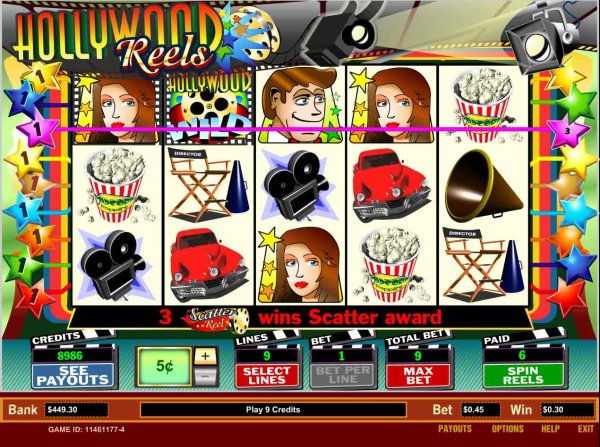 Hollywood Reels Slots is a fairly solid five reel slots machine. The designers definitely did a lot of different things right on this machine but I definitely felt there was room for improvement in a few areas. Some of the features just weren't executed as well as they could have been but there were enough good things done on this machine to keep me interested for an extended period of time and to provide for a very solid playing experience. The first thing I noticed about this slots machine were the symbols. I thought the designers were wise to keep these very simple and strait forward. You knew at all times exactly which symbols were the really valuable ones as they really stuck out from the rest. The betting options, as is the usual with Amaya Software, had some good things and some not so good things. The betting range was definitely the good thing as it was huge. Players could spin the reels for as little as a penny or for as much as 225 dollars. This is a huge range that is sure to meet the needs of nearly everyone. The not so good part were the pay lines. There were only nine made available on this machine which I really didn't think was enough to provide consistent winning action which is essential to making a game engaging.
Hollywood Reels Slots Wild Symbol
The wild symbol was just strait up lame on this machine and I almost wish they wouldn't have even bothered with it. The symbols itself was a picture of a vampire with the word "wild" above it. This symbol appeared on every reel and could only be used to substitute for the kissing plane symbol and the legends of the hidden temple symbol. This meant that his symbol was essentially a non factor in this game. Well not really because it was a fact in getting on my nerves. It was very frustrating to see this symbol appear again and again on the screen without any prize being awarded.
Hollywood Reels Slots Scatter Symbols
The scatter symbols were without a doubt the best part about this slots machine. There were two offered but they both essentially did the exact same job. Both appeared on every reel and were used to award a prize whenever three or more of the same scatter symbol appeared on adjacent reels. The first wild symbol was a picture of a movie reel that said "scatter" on it and the second was a picture of a Hollywood star that said "wild" on it. Whenever the scatter feature was activated a little screen popped up and you were awarded a random prize. The reason these were such cool symbols was because these randomly awarded prizes could be absolutely huge, much larger than what you got in the bonus game, and they happened quite frequently.
Hollywood Reels Slots Bonus Game
The bonus game offered on Hollywood Reels Slots was activated whenever three or more bonus symbols appeared on adjacent reels. The bonus symbol itself was a picture of a the black little snappy thing that started off each scene. This symbol appeared on every reel and only had one role; that being to activate the bonus game. When the bonus game was activated players were taken to a different screen where you had to select movie reels to win prize multipliers until you hit the "collect" symbol in which the game was ended. If you hit the collect symbols on the first try then you were automatically awarded all the prizes available in the bonus game. I liked this bonus game because it was short and sweet but I didn't think it awarded very large prizes and I would have liked it a lot more probably if it weren't so incredibly hard to activate.
Overall, I thought this was a decent slots machine but nothing great. I thought the designers got the scatter symbols spot on but there wasn't much else done right with this machine. They were need to think about adding more to the wild symbol and adding a few more pay lines to increase the overall winning percentages to acceptable levels.