Hole in One
Reels:

5

Bonus Features:

Yes

Coin Values $/£/€:

0.01-5.00

Max Coins:

45

Max Per Spin $/£/€:

225

Winning Lines:

9

Wild Symbol:

Yes

Scatter:

Yes

Progressive:

No

Software:

Amaya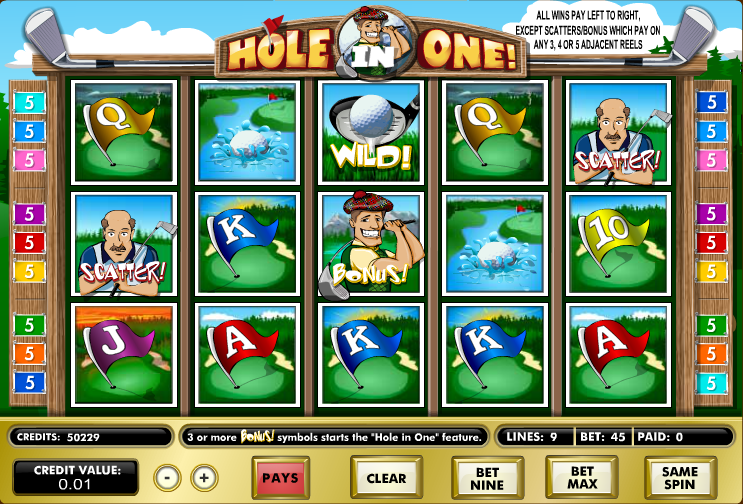 Hole In One Slots is a fairly complex five reel, bonus feature slots machine. The designers offered up some very traditional Amaya Software bonus features. While they weren't the most original features I still thought they were effective in increasing the overall excitement level of this machine to a level that will lead to a lot of players having fun playing this machine. The first thing I noticed about this machine were the superbly executed betting options which Amaya is very apt for producing on their five reel machines. The betting range was absolutely huge as players could spin the reels for as little as a penny or for as much as 225 dollars. This is sure to meet the needs of even those with the deepest pockets. My chief complaint with this machine would be that there were only nine available for players to bet on. This wasn't too big of a problem as far as betting flexibility was concerned but I really didn't think the overall winning percentages were where they needed to be on this machine. You lost on a majority of the spins on this machine and while there were spots where you could really rack up some winning I thought the lack of winning action really made this game much less engaging than it could have been.
Hole In One Slots Wild Symbol
The wild symbol offered on this machine was a big disappointment to say the least. The symbols itself was a picture of a golf ball being hit by a driver. This symbol appeared on every reel but could only be used to substitute for the sand trap and water hazard symbols. This really limited the impact that it could, and should, have had on the overall gaming experience. I thought it be came really frustrating to see this symbol come up on the screen time and time again to only see it result in nothing.
Hole In One Slots Scatter Symbols
There were two different scatter symbols offered on this machine but they both essentially did the exact same thing. Both symbols appeared on every reel and was used to award a prize whenever three or more appeared anywhere on adjacent reels. The first scatter symbol was a picture of a man who's face got red as he tried to bend a golf club. The other scatter symbol was a picture of a man who had his arms crossed and didn't quite get as mad. Both symbols awarded randomly selected prizes but the man who turned red in the face awarded slightly larger prizes. These were really effective scatter symbols and while playing the game this is where I basically won all my money and I really started to root for them after a while.
Hole In One Slots Bonus Game
The bonus game offered on Hole In One Slots was activated whenever three or more bonus symbols appeared on adjacent reels. The bonus symbols itself was a picture of a man in his follow through with a big cheesy smile on his face. This symbol appeared on every reel and its only purpose was to activate the bonus game. When the bonus game was activated players were taken to a different screen where they had to click on various golf holes to reveal prize multipliers. The game ended when you clicked on the golf course that reveled the word "collect". I liked this bonus game because it was short and sweet and could still offer a really big prize relative to what you were betting. Another cool thing about this feature was that if you got the "collect" word on the first pick you automatically won all the prizes on that bonus game.
Overall, I thought this was a decent slots machine but not a great one. There were definitely some areas where the designers could make some drastic improvements. The wild symbol was just way below average and I thought the winning percentages needed to be increased by a lot. I liked the idea of awarding some big bonuses to try and make up for this but I didn't think it led to a very engaging and exciting gaming experience.