Goooal! Slot Machine
Bonus Features:

Yes

Max Coins:

1

Max Per Spin $/£/€:

75

Winning Lines:

3

Wild Symbol:

No

Scatter:

No

Progressive:

No

Software:

Amaya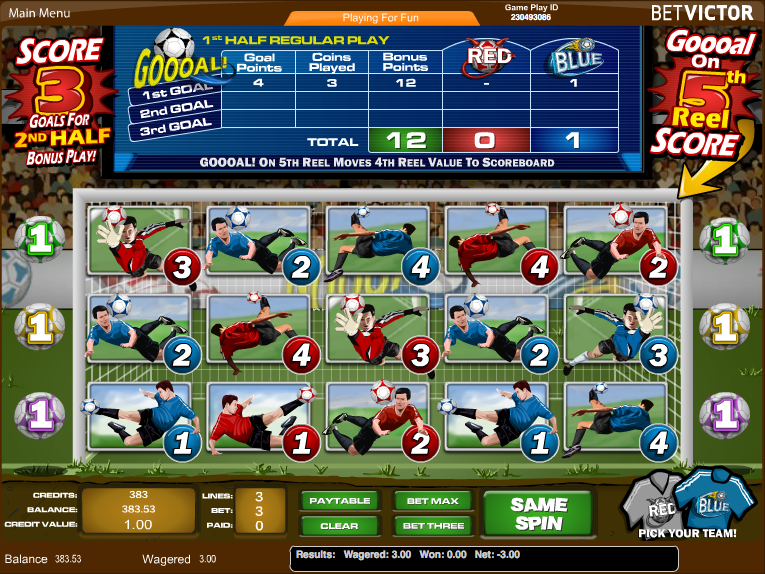 Goooaal Slots is a very original and new concept for a slots machine. The game actually fashions a real life soccer game and I thought that it was a very innovative concept for a slots machine. The first thing you did when the game started was pick whether you wanted to be on the blue or the red team. The point of the game was to score goals against the other team. A goal was scored whenever a goal symbol appeared on the screen and the symbols directly before it was one of your teams symbols. The symbols on this machine were kept very simple. There were blue and red symbols that numbered one through four. Every time a goal was scored you got however many points the symbols to the left of it stated if it was your teams color. The game continued until there were three goals scored and then, if you were in the lead, a bonus level was activated, which we will get to shortly. First we need to discuss the betting options. There were only three different pay lines you could bet on but a maximum of five coins that you could bet on each line. Obviously, the more money you bet the more money you could win. There was only one coin value, a dollar, so the maximum bet that could be made was fifteen dollars and the minimum bet was one dollar. The game really wasn't all that fun though unless you were playing three lines.
Goooaal Slots Bonus Round
The bonus round was activated whenever three goals were scored and your team was in the lead. When this happened you were taken to a different screen where you had to choose among a wide selection of different balls to try and kick into the net. You choose balls first for you team and then the other team in an alternating fashion. Basically, you wanted to score more goals than the other team and the bonus game ended whenever you clicked on the ball that revealed the "finish" sign. When this happened you were awarded a prize no matter what but if you were winning the prize you were awarded was much larger and the bigger your lead the more money you received. This was actually a pretty cool bonus game and in my estimation it was a win win because you were guaranteed to win at least a decent sized prize.
Overall, I loved the fact that the designers really tried to step outside of the box and create something that was truly original and innovative. Though it took a little while to get used to I think that if you gave the machine a shot you were learn that it actually provided some really exciting gameplay and the chance to win some really big prizes. I would recommend that everyone at least give this machine a try because it is a very well executed new and fresh idea.