Fast Track Slots
Bonus Features:

Yes

Max Coins:

45

Max Per Spin $/£/€:

225

Winning Lines:

9

Wild Symbol:

Yes

Scatter:

Yes

Progressive:

Yes

Software:

Amaya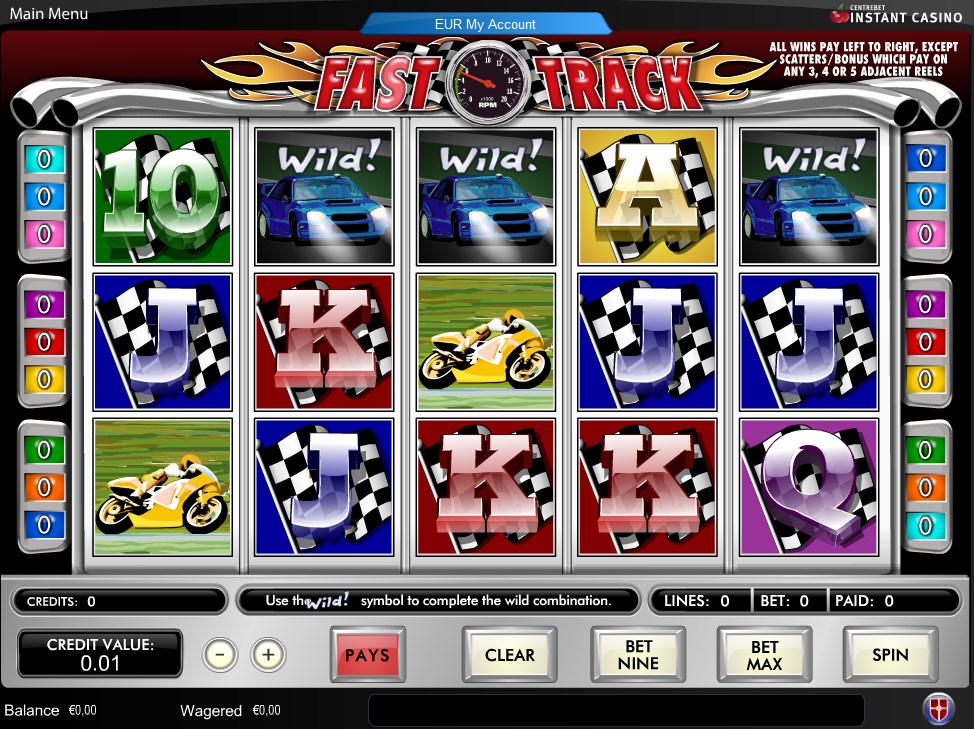 Fast Track Slots is a very sharp looking five reel slots machine. The graphics on this machine really looked professional and it did an excellent job of sucking you into the theme which made the slots machine a lot more fun to play. The first thing I noticed about this slots machine were they symbols that were used. I really liked the fact that the designers kept things really simple in this department. I thought it was very easy to keep track of the various symbol values as there was a very easy to understand system being used. The important symbols really stuck out as well so you knew when you were on your way to a big win or a bonus feature. The betting options were also far above average. The reels could be spun for as little as a penny or for as much as 225 dollars. This is a huge betting range and I think that it makes this machine very inviting to a wide range of players. There were only nine pay lines available for players to bet on which usually doesn't get it done on larger five reel machines but it was sufficient on this one since there were so few symbols being used.
Fast Track Slots Wild Symbol
The wild symbol offered on Fast Track Slots was a picture of a car with its head lights on that said "wild" above it. This was probably the most disappointing part of the whole machine as it really didn't have any significant impact on the overall game play. This symbol appeared on every reel but could only be used to substitute for two symbols, the motorcycle and the indy car symbols. This really limited the how effective this symbol was. It became really frustrating when the wild symbol came up time and time again only to result in nothing.
Fast Track Slots Scatter Symbol
There were two different scatter symbols offered on this machine but they both essentially did the exact same thing. The first scatter symbol was a picture of a was a picture of a wheel and it said "speed scatter" and the second was a picture of a speedometer and it said "mystery scatter". Both of these symbol appeared on every reel and were used to award a prize whenever three or more of the same symbol appeared on the screen together at the same time. I thought this was a very well placed special symbol because it led to a majority of my wins while I was playing and if it's producing wins then it's got to be worth having around.