Bulls Eye Bucks Slot Game
Bonus Features:

Yes

Coin Values $/£/€:

0.01-5.00

Max Coins:

9

Max Per Spin $/£/€:

45

Winning Lines:

9

Wild Symbol:

Yes

Scatter:

No

Progressive:

No

Software:

Amaya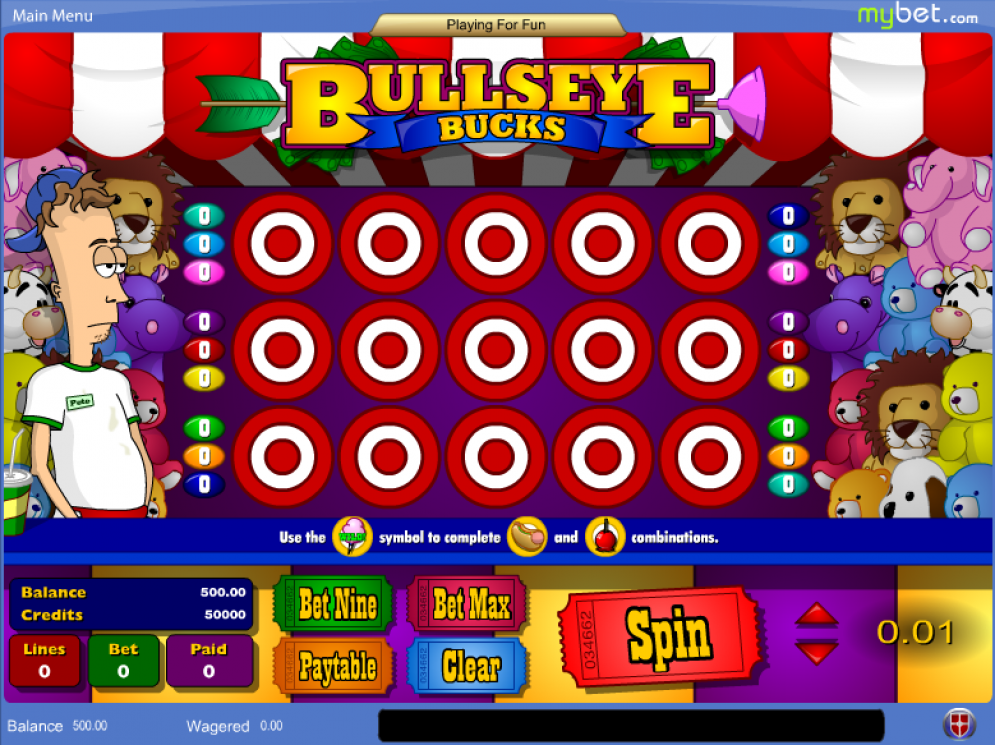 Bulls Eye Bucks Slots is a very advanced five reel. There are a ton of different bonus features and special symbols included on this machine that included three different bonus games. I loved the fact that the designers were able to include all of this while still maintaining a very user friendly machine. This a very hard balance to strike and something that many slot machines fail to do. The first thing I noticed about this machine were the symbols. I thought they were pretty well done. I liked the fact that all the symbols were very theme oriented and that they were all unique from one another. This meant that I never really ran into any problems confusing them with one another. The betting options offered on this machine were solid but nothing crazy. The betting range was good enough to make the machine accessible to most players as the reels could be spun for as little as a penny or for as much as 45 dollars. There were also nine different pay lines that players could be on. I would have preferred that there have been more included but I thought that this wasn't too big of a problem since there weren't a ton of symbols being used.

Bulls Eye Bucks Slots
The wild symbol offered on Bulls Eye Bucks Slots was a picture of an ice cream cone that said the world "wild" in front of it. This symbol appeared on every reel and could be used to substitute for only two symbols; the hot dog and candy apple symbols. I was really pretty disappointed with this symbol. I thought that it appeared a lot while I was playing but since it could only substitute for two symbols it rarely led to anything. It was kind of like a big tease that never amounted to anything and it actually got quite frustrating after a while.

Bulls Eye Bucks Slots Bonus Games
There were three different bonus games offered on Bulls Eye Bucks Slots. Each of these bonus games were activated whenever three or more of the same bonus symbol appeared on consecutive reels. The first bonus symbol was a picture of a lion with the word "bonus" in front of it. When this bonus game was activated you were taken to a different screen where you had to choose four prizes. For every prize you choose you received a reward and your could go up to four levels of four picks if you didn't run into an "out of stock" sign which ended the game. The other bonus game was activated by a duck symbols. During this bonus game you simply clicked on the ducks as they went buy to reveal prize multipliers. This game went on until you hit a miss symbols. The last bonus symbol was a picture of three money signs. During this bonus game you were paid by your boss. There was no telling how much he would pay you and you just took what you got. I really loved the fact that the designers decided to include three different bonus games but I thought they were way to hard to obtain. With three bonus games I thought that I would constantly be playing bonus games but that definitely was not the case.
Overall, I thought this was a very solid slots machine. The designers really did a lot of the small things right that are required to make a good slots machine. I still thought there was a lot of room for improvement though. The bonus games should have been made slightly easier to obtain and they really needed to think about doing something else with the wild symbol because it just didn't have much of any impact on the overall gaming experience.